evergreen-user:advanced_search
Table of Contents
Advanced Search
Access the Advanced Search by selecting the link from the bottom of the catalog entry page or from the left-hand sidebar of any catalog page.
Here are some important quick facts to remember when searching the catalog.
All search terms are joined by and by default. So, a search for harry potter is seen in the system as harry and potter.

Boolean operators such as and, or, not are searched for regularly, and are not considered special.

Phrase searching is accomplished by double-quoting the phrase. For example "harry potter".

To exclude a term from the search, use - (minus). For example, vacations -britain will search for materials on vacations, but not Britain.

By default, search terms are stemmed. So, for example, a search for dogs will also return hits with the word dog.
Search Options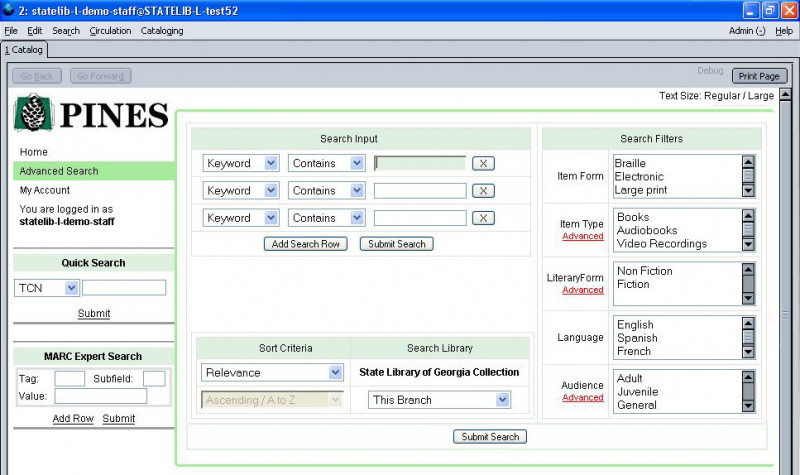 In the Search Input area, on each line, you can
choose to search by Keyword, Title, Author, Subject, or Series,

choose whether it Contains, Does not contain, or Matches exactly

terms or phrases to search for.
Each condition is joined by a and. The search page form shows three rows by default, but you can add and remove rows. Add an additional row by selecting the Add Search Row button. Remove a row by selecting the X button to the right of the row.
In the Search Filters area, you can apply limits to your search by Item Form (micoform, Braille, large print, etc.), Item Type (book, audiobook, video, etc.), Literary Form (fiction, non-fiction, etc.), Language, and Audience (adult, juvenile, etc.). For some of these categories, only a small set of the most common values are displayed; select the Advanced link under the category to see all possible values.
In the Sort Criteria area, you can choose in what order the search results should be displayed: Relevance (most to least relevant), Title (ascending or descending), Author (ascending or descending), or Publication Date (ascending or descending).
In the Search Library area, you can choose which PINES library or libraries to search. You can choose a specific branch, a local library system, or all PINES libraries.
Alternate Searches
On the left, there are other options for searching: Quick Search and MARC Expert Search.
Quick Search
Quick Search allows you to search by ISBN, ISSN, Call number, LCCN, or TCN. Simply select the type from the drop-down menu, enter the full or partial number, and select Submit to perform the search.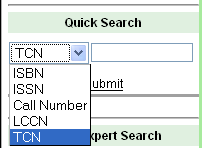 MARC Expert Search
MARC Expert Search allows you to search using MARC field and subfield codes. Enter the field (subfield is optional) and the text to search for, and select Submit to perform the search.
You may also search by additional fields (combined with and) by selecting Add Row.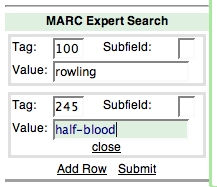 Search Results
The search results are the same as the results pages for regular search. See How to Search the OPAC for more details on the features available.
evergreen-user/advanced_search.txt · Last modified: 2022/02/10 13:34 (external edit)