evergreen-user:printer_settings
Printer Settings
Ideally, on installation, the staff client will configure itself to use the default printer reported by the Operating System. However, you can check or change this with the Printer Settings sub-interface available from the Admin->Local System Administration menu option.
You will be presented with several options, shown below: Set Default Printer and Print Test Page, Page Settings, Use default print strategy (preferred), and Use alternate print strategy (for when the default print strategy doesn't work).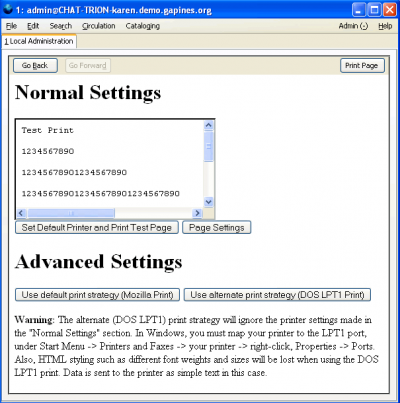 Page Settings
The dialog spawned from this button allows you to set the orientation of print outs (Landscape vs. Portrait), the margins, the headers and footers, and other related information.
Set Default Printer and Print Test Page
This dialog allows you to choose a printer configured from the operating system, and requires you to print (or attempt to print) a test page for your selection to be saved for use elsewhere. This same dialog may appear in other places when printing (for example, when you press the Print button in the catalog), however, any change you make then will only affect that current print job. You have to print from this Printer Settings page to make your changes permanent.
Receipt Printers
Evergreen has been tested with Star SP200 receipt printers connected through the PC's parallel port. We make sure the Page Settings have all margins set to 0, and all headers and footers set to blank. The page should also be set in portrait mode.
A walkthrough of the installation process and Evergreen configuration is here: http://open-ils.org/documentation/star_sp200_printer_installation/1.html
If further tweaking is required, Peter Johnson mentions a tear-off setting and Roberta Wilder tells how to set the DIP switches on the serial version of the SP200. For these instructions, click here.
Spine Label Printers
Evergreen spine label printing has been tested with an OKI MICROLINE 320 Turbo 9 Pin Printer using SP1 stock. The driver needed for this printer is already included with Windows XP. Otherwise, go to http://okidata.com/, click on their Drivers link and choose "Dot Matrix Printer" for their technology field and "ML320Turbo-D" for the printer model, and then proceed to find the correct driver for your operating system.
The actual driver will be labelled "Oki Data ML 320 Turbo/D (DEC)" in Windows. You will need to create a custom form or page type for your SP1 stock (instructions below). You will also need to set your left margin to .2", in the Page Setup interface previously shown. When you go to print spine labels (described in the Cataloging section of this document), you'll want the Font Size set to 10, the Left Margin set to 0, the Label Width set to 8, and the Label Length set to 9. For those settings, I've been loading the SP1 stock so that the label is predominantly on the left side of the tractor feed paper
In Windows XP, here are some steps to create the custom page type:
Start -> Printers and Faxes -> File -> Server Properties

Check "Create New Form"

Set the "Form name" to "sp1"

Set the "Width" to "3in"

Set the "Height" to "2in"

Click "OK"
In Windows XP, here is how you would associate the printer above with the custom page type:
Start -> Printers and Faxes

Right click on your printer and choose Printer Preferences

Click "Advanced"

In the Paper Size field, choose your custom form, "sp1"

Click OK and OK
evergreen-user/printer_settings.txt · Last modified: 2022/02/10 13:34 (external edit)